By Mark Benton | Product Manager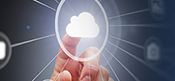 A typical office in 1995, with PC's and email, might have looked very sophisticated to your mother who was used to working with typewriters and physical mailboxes in 1975. In the same cyclical pattern, the office we see in 2015 is not like that of 1995. We now have to consider working from several devices no matter where we are, and access to everything is of utter importance.
Fundamental technological changes are coming and it's as much a response to how we work as it is to leveraging the power of the cloud. Many of us already work with several devices, ranging from a desktop or laptop, to a tablet and smartphone. How much more productive could you be if you had access to key information and documents from any of these devices?
With Microsoft Office 365, moving your email to the cloud means more than just sharing files or a calendar. It also means achieving access to the suite of Office applications that are 'cloud aware', including:
Cloud storage in OneDrive, and
SharePoint, Microsoft's premier document management and workflow automation platform.
In our upcoming June Lunch & Learn titled "Productivity and Collaboration in the Cloud: It's not your mother's office anymore," you can learn about everything described above, including:
The advantages, capabilities, and benefits of using Microsoft Office 365.
How SharePoint can be used as an organizational workflow and/or data governance tool within your company.
Security concerns around document sharing outside the organization.
The cost values of these cloud tools.
Choose the location that works best for you and register to attend one of the following events by clicking on the button below.
Wednesday, June 17 – Bangor, ME
Thursday, June 18 – Bedford, NH
Wednesday, June 24 – Portland, ME
If you are unable to attend our Lunch & Learns, contact us about Microsoft Office 365 Migration and Support.